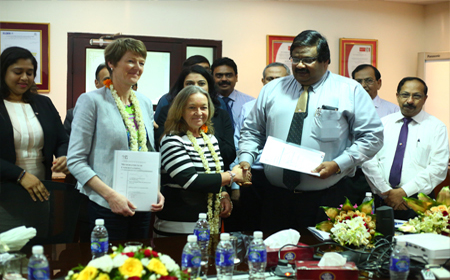 Mr N Jehangir, Vice Chairman & Managing Director, NeST Group shakes hands with
Ms Joy Burch, Minister for Education & Training in the Australian Capital Territory Government, after signing the Memorandum of Understanding with the CanberraInstitute of Technology, Australia, as Ms Nazneen Jehangir (Extreme left), Executive Director, NeST Group and Ms Leanne Cover, Chief Executive of CIT watch on.
NeST Group achieves yet another quality benchmark
Kochi:The NeST Group became one of the first companies in the world to be certified as per ISO 9001:2015 Standard, when five of its facilities passed the audit conducted by Bureau Veritas Certification (India) Pvt. Ltd. The 2015 version of the ISO 9001 Standard was published by the International Organisation for Standardisation only last month and the NeST Group, with its single- minded focus on enhancing process and product quality, had moved fast in its adoption, thus achieving this rare distinction.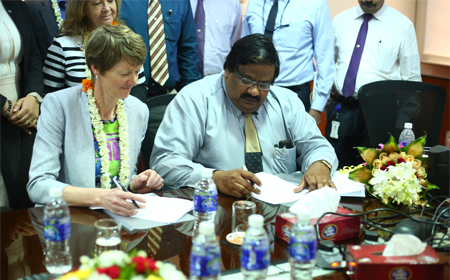 The five Group entities that achieved this distinction include three based in Kochi and Bangalore and in Wisconsin, USA. The Kochi units – NeST Information Technologies, Kalamassery, NeST Tech Park, Edachira and SFO Technologies - JKH Technologies Centre R & D, CSEZ - are engaged in software design and development, project management, design, development and prototyping of sub-level assemblies and high level assemblies, for domains as diverse as GIS, Insurance, Banking, Healthcare, Communications, Automotive and Aerospace. While NeST Aerospace, based in Bangalore, got certified for aeroplane black box data analysis services, the US office made the grade for its business development practices. The certification thus covered the entire gamut of services rendered by various NeST Group entities, starting from the sale process to delivery and post-delivery support, highlighting the Group's deep commitment to quality in all aspects of its operations.
The quality journey of the Group, which is celebrating its Silver Jubilee in 2015, began with the ISO 9001 certification for its software business in 1997. The journey has included many firsts and spans other standards like ISO 27001, ISO 13485, ISO 26262, AS9100C, etc covering the various verticals.
"At NeST, our quality focus merely reflects our commitment to customer satisfaction. When you are dealing with the world's best and the biggest corporations like Michael Baker International, Verisk Analytics, Barclays Bank, etc, one has to constantly raise the quality bar", said Ms. Nazneen Jehangir, Executive Director of the NeST Group, commenting on this remarkable achievement.
Besides software and electronics design and manufacturing, the NeST Group also has presence in Infrastructure, Food & Beverages and Education & Training. Mr. Javad Hassan, Chairman of the Group is a decorated technocrat who had served leading US multinationals like IBM in senior positions, while Mr. N Jehangir, Vice Chairman & Managing Director looks after strategy and operations that are spread across the US, Europe, Middle East, India., Japan and Australia.