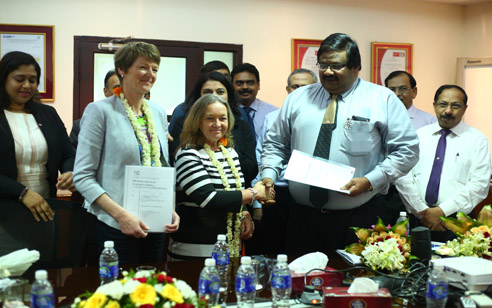 Kochi : NeST Information Technologies Pvt Ltd, the software arm of the US $ 200 m NeST Group, today(28-09-15) signed a Memorandum of Understanding with the Canberra Institute of Technology (CIT), Australia.
The MOU seeks to foster close cooperation between the two entities in the field of education and training. While the NeST Group's factories and software development centres would offer internships to students of the CIT to enhance their industry exposure, future plans include NeST's training Divisions partnering with CIT to jointly develop and deliver job-oriented courses, such as in Geographic Information Systems, to students in India, acting as a remote campus. Such initiatives are expected to benefit students of both countries in enhancing their skills and employability substantially.
The MOU was signed by Mr N Jehangir, Vice-Chairman & Managing Director of the NeST Group and Ms Leanne Cover, Chief Executive of CIT, in the presence of Ms Joy Burch, Minister for Education & Training, Police & Emergency Services, Disability, Racing & Gaming, and Arts in the Government of the Australian Capital Territory. The signing was held at NeST Group's campus in the CSEZ In the presence of key officials from both sides, including Ms Nazneen Jehangir, Executive Director, NeST IT, Mr Altaf Jehangir, CEO, SFO Technologies and Ms Jayne Miller, Director, CIT.
About NeST IT
NeST IT, part of the US $ 200 m NeST Group, is a premier company specialized in providing software services and solutions to customers from diverse verticals like Aerospace, Banking & Financial Services, Insurance, Utilities, Healthcare , Manufacturing, etc. The company works with multifarious technology platforms, including Microsoft, Oracle, Open Source and legacy (mainframe), and combines domain expertise with proven skills in GIS, enterprise mobility and web technologies to create both custom applications and implement COTS solutions to meet the business requirements of its customers, which include start-ups, SMBs and Fortune 500 companies in equal measure.