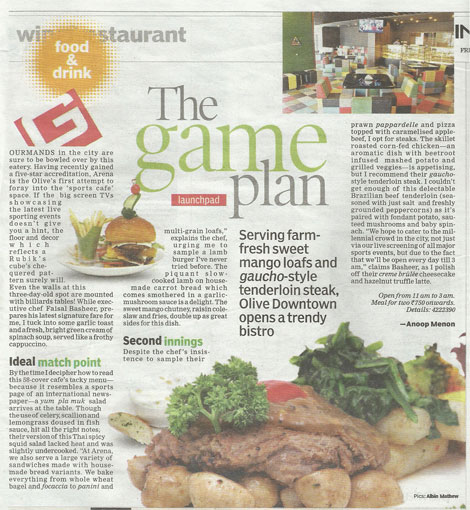 Olive Downtown Hotel at Kadavanthra has acquired five star classification status, which is the first standalone property in Kochi city. Olive Downtown – Hotel is strategically located in the city Centre for business and leisure travelers with the largest parking space among the city hotels. The Hotel has a Multi cuisine Restaurant, Olivia, which has an array of Indian and International cuisines and tailor made lavish Buffet spread for Breakfast, lunch and dinner.

The Afghan Specialty Restaurant serves Barbecue and Middle Eastern Specialty Restaurant which is open from 7 pm to 11 pm. The restaurant serves grills, kebabs and tandoor to experience the aroma and grandeur of the cuisine and also has an Unlimited Kebaba and Buffet on Fridays, Saturday and Sunday.

The Newly opened Trendy Cafe named - Arena, is open from 11 am to 3 am (next day ) serves different varieties of Hot and Cold Beverages along with Sandwich, Burger, Pizza, Pasta ,Steak and varieties of Pastries, Desserts and Gateaux

Olive Downtown has 84 rooms and has 4 Categories. A Luxury Suites Olive Legacy Suit and Olive Royal Suite , which is 1800 Sqft and 900 Sq Feet rooms are situated on the 11th floor. These elegant room has two balcony, Living area and Dining area, bed Room , Spacious Bathroom with Jacuzzi.

Olive Group plans to invest in this industry with different projects like Hotels, Chain of Cafe, Industrial Food Court which one has already started in TCS campus at Infopark. There are also plans for Hotel project in Bangalore and Munnar ,Food Court in Kottayam and Cafes in and around Kochi.

The Press was briefed by Dr.Mathew Thomas ,MD, and Mr.Ullas Verghese ,GM.