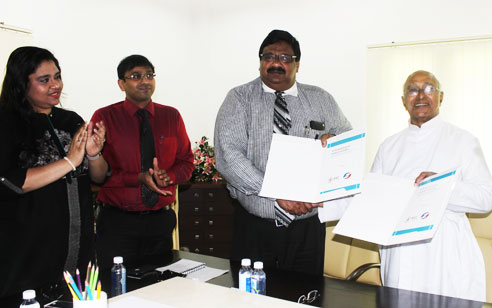 Kakkanad: Rajagiri School of Engineering and Technology (RSET) and NeST Group have come together to initiate an innovative concept, first time among the private Engineering Colleges. "NeST Centre of Excellence" within the Rajagiri premises is envisioned to cater to research and development activities within the academic institute, which will be of direct relevance to industries. This Centre shall have a NeST Chair, who will spearhead the activities of the centre. The research members will include both faculty and students from RSET as well as Engineers from NeST. It allows talented students to study and research in technologies of tomorrow.
To start with, Internet of Things (IoT) is identified as the focus area, and it is expected that a lot of such innovative technologies as well as products will emerge from this close association, thus fruits can be reaped from technologies of future. It is envisaged that this NeST Centre of Excellence will get transitioned into a centre of eminence in IoT with many reputed publications, patents and products.
The MOU was signed by Mr.N.Jehangir, Vice Chairman and Managing Director, NeST Group and Rev.Fr. Jose Alex Oruthayapalli, Director, Rajagiri at a function held on 27 th June, 2016 at Rajagiri campus in the presence of Nazneen Jehangir and Althaf Jahangir( Executive Directors, Nest Group) .