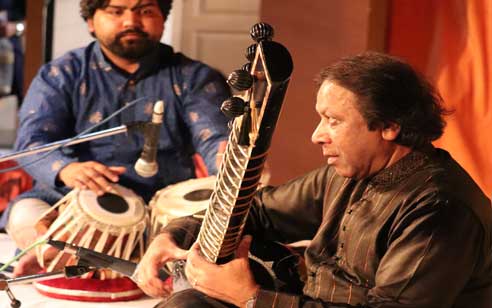 SARGAM-18, the three day Kerala State Convention of SPIC MACAY,which was conducted at Rajagiri Centre for Business Studies, Kochi, was inaugurated by the Water Resources minister, Advocate Mathew T. Thomas on January 26. The inaugural performance was by Pandit Hariprasad Chaurasia, followed by an Odissi performance by Smt. Sujata Mohapatra. Traditional art forms like Eddaka, Chakyarkoothu, and Panchavadyam were also showcased in the morning.
The second day featuredlecture demonstrations by eminent teachers in Koodiyattam, Mohiniyattam and Kathakali, followed by a violin performance by Dr. L. Subramanium and Bharatanatyam by Smt. Meenakshi Srinivasan. All the three days various workshops in arts and crafts were conducted by eminent gurus, for students of all ages. These workshops included Carnatic music, Odissi, Koodiyattam, Kathakali, Hindustani Music, Mohiniyattam, Pottery, Kerala mural painting, Cherial painting, and saw dust mask making.
On the last day, the workshops were conducted for 3 hours, after which the participants showcased what they had learned.
The valedictory function was presided over by Rev. Dr. Mathew Vattathara CMI, the Director Rajagiri Group of Institutions. Dr. Sreeram Venkitaraman IAS, Director, Training and Employment Department, Kerala, spoke on the need for reaching out to the youth through cultural art forms and maintaining an internal and external harmony by the youth. He specified the objective of SPICMACAY, have every child an experience of Indian Classical music and rich Culture of India in his valedictory address. The founder address by Dr. Kiran Seth appreciated the effort of the selfless service of the volunteers and urged everyone to be part of the SPICMACY movement.
Dr. Joseph I Injodey, the Executive Director, Rajagiri College, Mr. P S Moni, State head (Kerala), Indian Oil Corporation and Mr. MD Varghese, GM Cochin Shipyard felicitated the occasion. Cochin Shipyard also announced it's future finacial support of Rs.10 Lakhs for SPICMACAY movement for reaching out to 60 government Schools by various cultural art forms. Dr. Lakshman Mahadevan, Prof. Saji George and Dr. Susan Mathew co ordinated the three days convention.
The participants took the initiative to convey their gratitude towards their gurus, and shared their experience with the audience.The program was concluded with grand finale sitar performance by Ustad Sahid Parvez Khan. Nearly hundreds of students from south India participated in the convention.