Munneridaam.. Video Song by Preety Bhalla for Motivation to Flood Affected People in Kerala to Come Back to Normal Life.
Kochi: The National Music Campaign of Bollywood Singer Preety Bhalla Reminiscing the Joint efforts of Keralites to fight against the floods and encouraging to rebuild Kerala has started.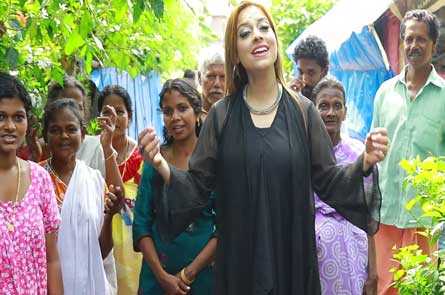 As part of the campaign, the Video song in Hindi and Malayalam was released by Preety Bhalla and Colleagues at Ernakulam Press Club. The Song named as 'Munneridaam...' in Malayalam and 'Hum Chal Pade..' in Hindi, gives a picture of how Kerala should bounce back from the flood situation thus encouraging Everyone Towards getting back to Normal Life Again with A Bang.
Glen has given the music for the song, lyrics by Shaheen Iqbal in Hindi and Deepak G in Malayalam. The Song was filmed at the flood-affected areas and In fact even the backing vocalists are those who have faced the flood situation in Kerala.
The album is Directed by Suraj Ramakrishnan and Team
Preety Bhalla said she is closely Associated with Kerala through her husband Deepu Paul, who is a Native of Ernakulam. The news of floods and destruction in Kerala was very hard to believe.
She pointed out that this song will be included in all the musical programmes so that the hardships faced by the people of Kerala and how they rebuild the State will be known to various parts of the world.
Preety Bhalla who became popular through her song "Damadam Mast Kalandar from Hindi album 'Jalwa - ll' has sung in Punjabi, Telugu, Tamil, and Malayalam languages also. She has Sung Manipuri song in Bollywood movie 'Mary Kom' and 'Mehruba' from the Malayalam movie 'Laila O Laila' and many more...
The press meet was attended by Preety Bhalla, Glen, Deepak G, Suraj Ramakrishnan, and Mahesh Manohar.